Down Under Surveys has have carried out many GPS land surveys for the Mining and Exploration industry in Australia and internationally.  We have worked with some of the largest mining companies through to junior green fields explorers. Down Under Surveys has also provided quality survey services for engineering companies, environmental departments, and local government.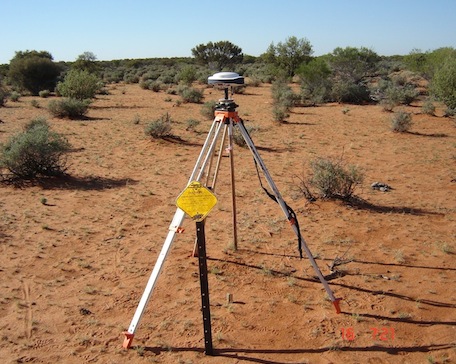 Our main focus has predominantly been a mapping of drill hole collars, set out of grid pegs, exploration/mining lease pegging, and establishing survey control for aerial photography and mine sites.  Our Survey grade GPS / GNSS equipment gives an accuracy of position to 1 centimeter after a couple of seconds of occupation. We have GPS surveyed approximately 100,000 drill hole collars in the Goldfields and Pilbara region of Western Australia.
Digital Terrain models can be created as well as profiles for pipeline and power line surveys.
Our GPS receivers can record points at a predetermined spacing making them ideal for terrain modeling and creating profiles for pipelines and power lines.   These terrain models are ideal for the construction of airstrips, volumes for pits and stockpiles, and for determining the placement of channels to drain water away from low lying areas.

 Please see our partner company www.navaids.com.au for DGPS equipment hire and sales Topographic Maps, and Digital Terrain Models, utilizing points gathered from a GPS survey, can be created at our Perth office. Our staff is experienced in remote areas survey.